Description
Our BVFW series CE approved hot water boiler is available for various biomass pellet, such as biomass straw, forestry waste, etc., so it is popular in European countries. During the past years, we have exported to United Kingdom, Ireland, Italy, Spain, France, etc. All these biomass pellet hot water boiler is used for heating or bathing, such as home heating and bathing, hotel heating and bathing, greenhouse heating, etc.
With boiler market development, we do several search and investigation for different pellet hot water boilers and update our pellet hot water, following is some advantages of our pellet hot water boiler:
1. Pellet ignitor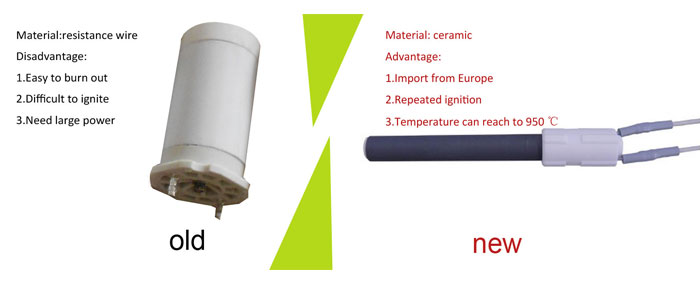 Old Ignitor
New Ignitor
1.Material: resistance wire, this material make the igniter easy to burn out , then people has to change the igniter frequently.
2.It need large power to ignite, need 2000w, it is current consuming.
3.It is difficult to ignite, the temperature rises slowly.
1.Material: ceramic, the resistance wire was packed in the ceramic tube, this way can protect the resistance wire from burning out.
2.This ceramic pellet igniter import from Europe. It can be repeated ignition without harming the igniter.
3.The temperature can reach 950℃ in 60 seconds.
4.It is energy-saving, only need 300w to ignite
Old induced draft fan
New induced draft fan
1.Model:   Multi-wing induced draft fan

2.Material:   most manufacturer use aluminum, this make it the short life.

3.It easy   to store fouling, more dust was blown on the blades, then it will make big   noise.

4.The fan   easily deformed in the high temperature.

5.It's  large air flow comes with higher   lose.

1.Model: Blade Induced draft fan

2.Material: 100% pure copper

3.The heat insulation link bridge can protect the   motor from burning down, this make it has long life compare with multi-wing   fan

3. Siemens PLC control system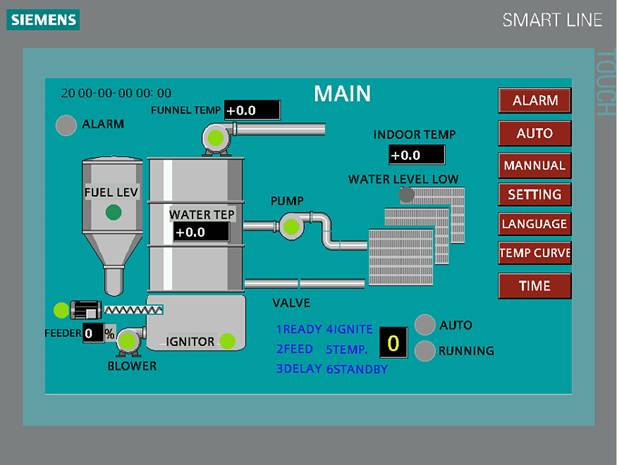 Different langue can be choose.
Operation interface using Siemens touch screen, intuitive interface, simple and convenient operation.
PLC program control system, have temperature setting, cycle control,
Alarm: lack of pellets alarm, fault alarm, over-temperature, funnel temperature
Automatic ignition, induced air delay shut down automatically, automatic feeding, program design has automatic feeding contact point, can be connected external feeding machine.
Can also be weekly control boiler starting and stopping every day, advanced functions such as automatic restart program, completely out of human care, operation simple and convenient !
PID control.
UPS: Control circuit is equipped with emergency power supply, ensure the fuels inside the chamber to burn adequately when power failure.
Model
BVFW0.018
BVFW0.035
BVFW0.06
BVFW0.24
85/64-M
85/65-M
85/65-M
85/65-M
Rated Capacity(Btu)
60,000
119,000
200,000
800,000
Rated Capacity (Mw/h)
0.018
0.035
0.06
0.24
Rated Calorific Cap.(Kcal/h)
1.5×10^4
3×10^4
5×10^4
20×10^4
Theoretic Heating Area(S.M.)
80-150
250-300
350-500
1700-2000
Thermal Efficiency
95%
Rated Outlet Temp.
85 celsius degree(   185 F)
Operating pressure
Atmospheric
Power Voltage (v)
220
220
220
220
Power(w)
IDF
250
250
350
870
Blower
250
250
350
870
Feeding
90
Igniter
2200
2200
2200
2200
Feeding reducer   ratio(i)
250
150
Exhaust Flue Dia.   (mm)
114
114
114
165
Water Inlet Caliber
1.0〞
1.0〞
1.5〞
2.0〞
Water Outlet Caliber
1.0〞
1.0〞
1.5〞
2.5〞
Drain out Caliber
1.0〞
1.0〞
1.0〞
1.5〞
Atmospheric pipe
1.0〞
1.0〞
1.0〞
1.5〞
Water Storage (kg)
150
180
330
700
Hoper Capacity (kg)
50
60
60
120
Fuel Consump.  (kg/h)
2.5
4.9
8.5
32.5
Hot Water Output   (t/h)
0.57
0.64
1.1
4.3
(In condtion of   feeding water Temp.15 celsius degee and hot water Temp. 55 celsius degree)
Boiler Proper Size (mm)
L
950
1000
1100
980
W
500
550
550
900
H
1450
1200
1580
2350
Transportation Wt. (kg)
217
282
380
980